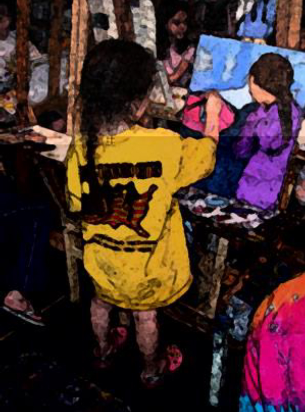 Classes
The Rostan Art School offers individualizedd instruction in painting and drawing. Students meet in mixed ability groups, once a week, for 1 1/2 hours. Each afternoon class is comprised of students between the ages of 5 1/2 and 11. Middle school and high school students meet during evening classes, and adults can choose between morning and evening classes.
Classes are structured so that each student works on his or her own self-selected project, returning each week to work and revise incomplete passages. Instruction is individualized. Directions, suggestions, and reactions are addressed individually, during the constant monitoring of each student's progress.
Middle school and high school students work together in evening classes, focusing on increasingly individualized explorations of ideas and media. Activities evolve from the needs of each student with an emphasis on the importance of learning skills and concepts within the visual arts.
For adults with varying levels of competence, the focus is on exploring various subjects and techniques as students build their knowledge and skills with the support of a master teacher.
Where Talent and Creativity Come to Grow and Thrive !